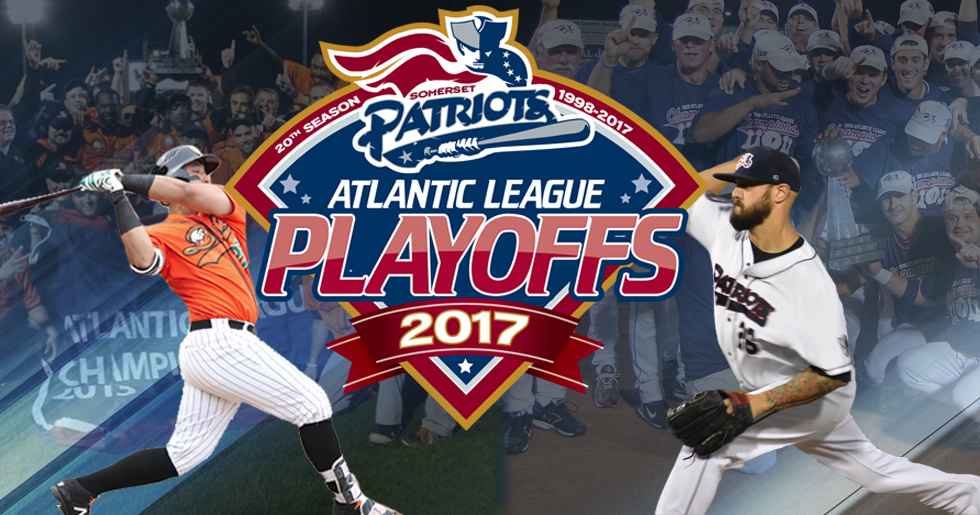 Bridgewater, NJ- The Somerset Patriots and the Long Island Ducks square off in the Liberty Division Series.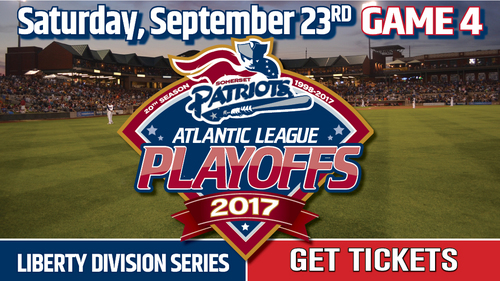 PLAYOFF TICKET SPECIAL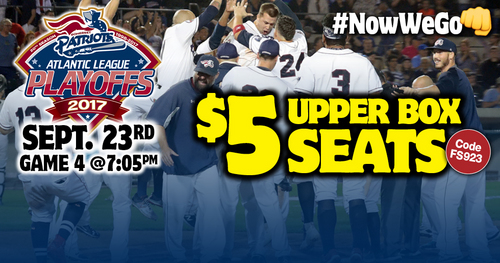 Fans can purchase discounted $5.00 Upper Box Tickets for the Saturday, September 23rd Playoff Game by using Promo Code: FS923 when buying tickets on-line!
Long Island Ducks Lead The Series: 2-1
Liberty Division Schedule:
Game 1: PATRIOTS 7 Ducks 1. Mark Hamburger goes 7 innings and strikes out 7 for the win. 
Click For Recap!
Game 2: Patriots 1 DUCKS 4. Alex Burg homered and Matt Larkins got the win to even up the series. 
Click For Recap!
Game 3: DUCKS 6 Patriots 1. Jake Fisher pitches a complete game to lead the Ducks to victory. 
Click For Recap!
Games 4: Saturday, September 23rd at TD Bank Ballpark at 7:05 pm
Game 5 (If Necessary): Sunday, September 24th at TD Bank Ballpark at 5:05 pm
Pitching Probables:
Game 4 Ducks RHP Jake Dunning (2-3, 3.64) vs. RHP Patrick Johnson (2-2, 4.76)
Game 5 TBD
Game 4 Preview: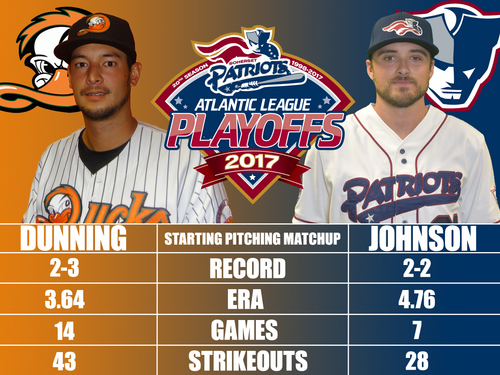 Game 3 Recap: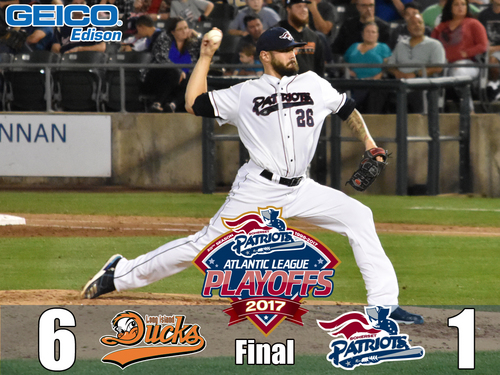 The Ducks jumped out to a 3-0 lead in the top of the first inning on RBI base hits by Lew Ford and Marc Krauss, followed by an RBI fielder's choice by Angelo Songco.
"I thought [starting pitcher Will Oliver] was throwing strike one tonight early. He just left some balls up and they took advantage of it," said Somerset Patriots manager Brett Jodie. "He left the two-strike pitches up and they were able to do enough with them."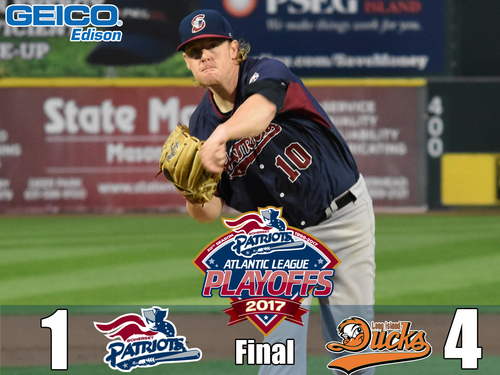 The Ducks took an early 1-0 lead in the bottom of the first inning on an RBI single by Lew Ford.
Long Island put up two runs in the bottom of the fourth inning on a wild pitch followed by an RBI single by Elmer Reyes that made the score 3-0.
Game 1 Recap: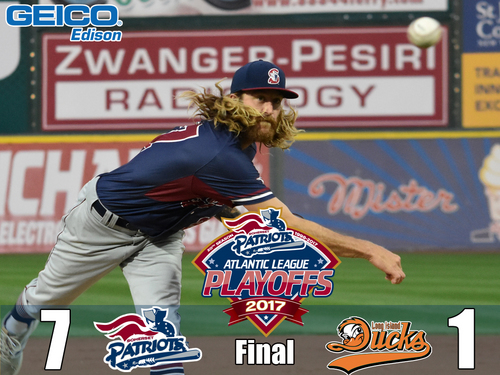 Mark Hamburger (1-0) pitched seven strong innings, allowing just one run on eight hits and seven strikeouts on 118 pitches.
"We sat outside and tried to nibble away at the corners. We also didn't go away from going right at them" said Hamburger. "[Starting catcher Yovan Gonzalez] just gave me really good signs and we just flowed well together."
---
2017 Regular Season Series Head-To-Head: 9-11
1st Half Home: 4-2, Road: 2-5
2nd Half Home: 2-5, Road: 2-1
All-Time Series Head-To-Head: 172-173
All-Time Playoffs Head-To-Head: 8-10
All-Time Patriots vs. Ducks At Home: 89-81
All-Time Patriots vs. Ducks On Road: 83-92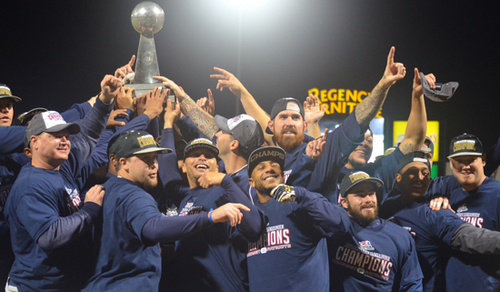 Somerset Patriots Playoff History:
6 Atlantic League Championships:
2001, 2003, 2005, 2008, 2009, 2015
10 Division Championships:
1999, 2000, 2001, 2003, 2005, 2007, 2008, 2009, 2013, 2015
18 Half Championships:
1999, 2000 (2x), 2001 (2x), 2003, 2005, 2007, 2008, 2009 (2x), 2010, 2014 (2x), 2015 (2x), 2016, 2017
Wild Card: 2013
Playoff Records: 
Overall: 44-35
Division Series: 24-16
Championship Series: 21-19
Elimination Games: 11-7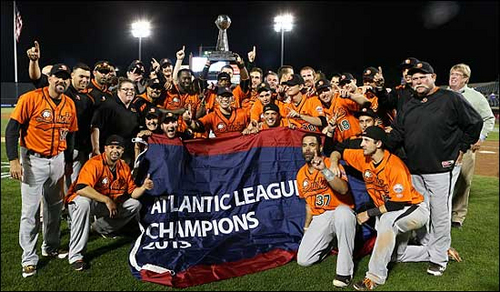 Long Island Ducks Playoff History:
3 Atlantic League Championship:
2004, 2012, 2013
5 Division Championships:
2006, 2011, 2012, 2013, 2016
12 Half Championships:
2004, 2005, 2006, 2007, 2008, 2009, 2011 (2x), 2012, 2013, 2016, 2017
Wild Card: 2015
Playoff Records: 
Overall: 31-31
Division Series: 21-21
Championship Series: 10-10
Elimination Games: 11-8