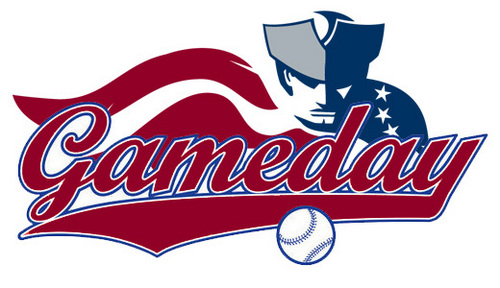 Today's Game:
Somerset Patriots (1-0) vs. Road Warriors (0-1)
Game #2 * Saturday, April 28th * 7:05 pm ET * TD Bank Ballpark * Bridgewater, New Jersey
On The Air: 1450 WCTC; WCTCam.com Twitter: @SOMPatriots @MarcSchwartz26 @8oyle

Series at a Glance
Friday (7:05 pm) SOM def RW 4-3 (11); Scott Kelly RBI single in 9th to tie game, RBI single in 11th to win the game
Saturday (7:05 pm) SOM [RHP] Trevor Foss (0-0, 0.00 ERA) vs RW [LHP] Giovanni Soto (0-0, 0.00 ERA)
Sunday (1:05 pm) SOM [RHP] Aaron Laffey (0-0, 0.00 ERA) vs RW [RHP] David Perez (0-0, 0.00 ERA)
Click here to view today's complete game note: 
GAME NOTES 4.28.18
GOOD TO BE BACK: 2018 marks the 21st season of Somerset Patriots baseball and the 20th season of baseball at TD Bank Ballpark. The Patriots are the lone founding franchise remaining in the 21st season of the Atlantic League.
STREAK OF SUCCESS: Somerset earned a spot in the 2017 postseason as the First Half Liberty Division Champions. It marked the league-record 18th Half Championship (eighth in the first half) for the Patriots and their fifth-straight season of making the postseason.
O CAPTAIN MY CAPTAIN: Brett Jodie enters his sixth season as manager and 15th overall season with the Patriots. He holds a 415-282 (.680) record as manager, including an Atlantic League Championship (2015), six of a possible 10 Half Championships and a Manager of the Year award (2015).
NEW ROLE, SAME BIG JON: "Big" Jon Hunton enters his seventh overall season in Somerset, but first as the team's Pitching Coach. The all-time Atlantic League saves king (167) and three-time league champion and two-time All-Star is also in his first year as the Director of Baseball Operations.
HOMEGROWN COACHES: This season marks the first time in Somerset Patriots history that all three primary coaches had played previously for the Patriots. Brett Jodie (2003, '05), Jon Hunton (2008, '13-'17) and Hitting Coach Glen Barker (2003) all previously wore the Red, White and Blue.
FAMILIAR FACES: The Patriots return 14 players that spent time on the roster last year. Pitchers Mike Antonini, Aaron Laffey, Dustin Antolin, Ryan Kelly, Dustin Molleken, Duane Below and Rick Teasley join position players Al Reda, Yovan Gonzalez, Justin Trapp, Scott Kelly, Alfredo Rodriguez, Kyle Roller and Justin Pacchioli as returnees.
BIG TIME TIMMY JIMS: Somerset boasts 10 players with service time at the Major League level, including long-time MLBers Julio Borbon (five seasons), Endy Chavez (13 seasons), Logan Kensing (nine seasons) and Aaron Laffey (eight seasons). In total, the Patriots' Opening Day roster represents 44 years of service in the big leagues.
TOPS IN THE LEAGUE: An Atlantic League-best 17 Patriots had their contracts' purchased during the 2017 season. Somerset is once again leading the league in this department, with two contracts already purchased in 2018 (Scott Copeland, New York Mets and Brett Oberholtzer, Colorado Rockies).
REINFORCEMENTS FROM THE FRONTIER: The Patriots have brought in five players from the Frontier League this year – four of whom were league All-Stars. Pitchers Trevor Foss and Randy McCurry along with infielders Aaron Dudley and Craig Massey combined for 10 All-Star game selections over the last four years.
DÉJÀ VU ALL OVER AGAIN: Scott Kelly's 11th-inning RBI single on Opening Night marked the second-straight that the Patriots won Opening Night with an extra-inning walk-off hit. Yovan Gonzalez hit a 10th-inning solo home run last year
MyRewards Code: Enter Dinger18 into the Patriots mobile app to earn MyRewards points!