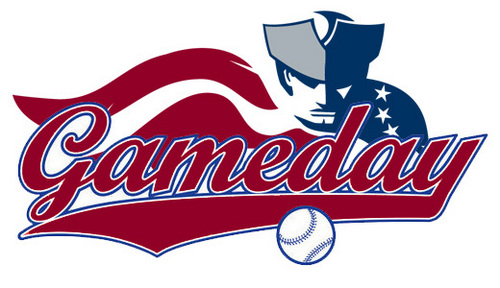 Today's Game:
Somerset Patriots (4-1) vs. Long Island Ducks (3-2)
Game #6 * Thursday, May 3rd * 6:35 pm ET * TD Bank Ballpark * Bridgewater, New Jersey
On The Air: 1450 WCTC; WCTCam.com Twitter: @SOMPatriots @MarcSchwartz26 @8oyle

Series at a Glance
Tuesday (6:35 pm) LI def SOM 6-4; Julio Borbon two-run home run not enough vs. Andrew Barbosa's strong outing
Wednesday (6:35 pm) SOM def LI 7-6; Aaron Dudley walk-off double; Julio Borbon 2 XBH, 3 RBI; Patriots erase 5-1 deficit
Thursday (6:35 pm) SOM [RHP] Cory Riordan (0-0, 1.58 ERA) vs LI [LHP] Bennett Parry (0-0, 0.00 ERA)
Click here to view today's complete game note: 
GAME NOTES 5.3.18
GOOD TO BE BACK: 2018 marks the 21st season of Somerset Patriots baseball and the 20th season of baseball at TD Bank Ballpark. The Patriots are the lone founding franchise remaining in the 21st season of the Atlantic League.
O CAPTAIN MY CAPTAIN: Brett Jodie enters his sixth season as manager and 15th overall season with the Patriots. He holds a 418-283 (.677) record as manager, including an Atlantic League Championship (2015), six of a possible 10 Half Championships and a Manager of the Year award (2015).
HOMEGROWN COACHES: This season marks the first time in Somerset Patriots history that all three primary coaches had played previously for the Patriots. Brett Jodie (2003, '05), Jon Hunton (2008, '13-'17) and Hitting Coach Glen Barker (2003) all previously wore the Red, White and Blue.
BIG TIME TIMMY JIMS: Somerset boasts 10 players with service time in the Majors, including Julio Borbon (five seasons), Endy Chavez (13 seasons), Logan Kensing (nine seasons) and Aaron Laffey (eight seasons). In total, the Patriots' Opening Day roster represents 44 years of service in the big leagues.
TOPS IN THE LEAGUE: An Atlantic League-best 17 Patriots had their contracts' purchased during the 2017 season. Somerset is once again leading the league in this department, with two contracts already purchased in 2018 (Scott Copeland, New York Mets and Brett Oberholtzer, Colorado Rockies).
BORBON STREET: First-year Patriots outfielder Julio Borbon has gotten off to a hot start with a hit in each of his first five games of the season. Additionally, the five-year Major Leaguer has recorded an extra base hit in four-straight games, including a two-run home run Tuesday, May 1st against the Ducks.
IT'S A WALK OFF!: Five games into the 2018 season, the Patriots already have three walk-off wins. Scott Kelly led the way with walk-off winners in each of the first two games, and Aaron Dudley followed suit on 5/2 to cap off a four-run comeback victory. Somerset enjoyed three walk-off wins in the first six games of the 2017 season and finished the year with 11 total walk-off wins.
WE'RE GOING STREAKING!: Three Patriots batters (Borbon, Justin Trapp & Alfredo Rodriguez) have begun the 2018 season with a five-game on-base streak.  Yovan Gonzalez has also been on base in all three games in which he has played.
BULLS ON PARADE: Somerset's bullpen was considered a strength of the team heading into the season, and that has held up through the first five games. The team's relief pitchers have combined to yield just four earned runs over 20.2 IP so far, good for a 1.74 ERA. They have also earned all four team wins and have struck out 23 batters over their 20.2 combined innings of work.
GOLD GLOVE CALIBER: Somerset has recorded just two errors as a team over 173 totals chances, good for a .988 fielding percentage. The Patriots have ranked as the top defensive team in the league in each of the last two years as well, with a .981 and a .983 fielding percentage in 2016 and 2017, respectively.
MyRewards Code: Enter triple 18 into the Patriots mobile app to earn MyRewards points!