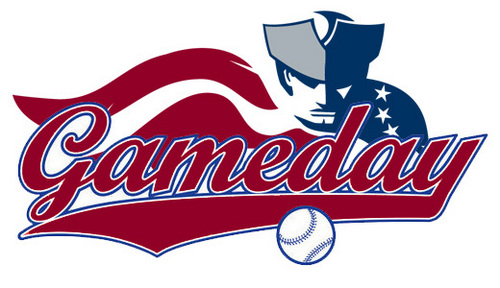 Today's Game:
Somerset Patriots (7-3) vs Road Warriors (4-6)
Games #11-12 * Wednesday, May 9 * 11:05 am , 6:35 pm * TD Bank Ballpark * Bridgewater, New Jersey
On The Air: 1450 WCTC; WCTCam.com Twitter: @SOMPatriots @MarcSchwartz26 @8oyle

Tuesday (6:35 pm) RW defeat SOM 3-0; Raul Rivera-Alicea 6 shutout innings; Melvin Rodriguez HR, 2 RBI
Wednesday (11:05 am) SOM [RHP] Trevor Foss (0-1, 4.69 ERA) vs RW [LHP] Kelvin Villa (0-0, 3.27 ERA)
Wednesday (6:35 pm) SOM [RHP] Cory Riordan (0-0, 3.85 ERA) vs RW [LHP] Giovanni Soto (0-0, 4.82 ERA)
Thursday (6:35 pm) SOM [LHP] Aaron Laffey (0-0, 3.00 ERA) vs RW [RHP] David Perez (0-2, 10.12 ERA)
Click here to view today's complete game note: 
GAME NOTES 5.9.18
TOPS IN THE LEAGUE: An Atlantic League-best 17 Patriots had their contracts' purchased during the 2017 season. Somerset is once again tied for the league-lead in this department, with two contracts already purchased in 2018 (Scott Copeland, New York Mets and Brett Oberholtzer, Colorado Rockies).
THE WEISENBURGER SPECIAL: Patriots' catcher Adam Weisenburger has stepped into the starting role well since May 2nd. Over his last five games, Weisenburger has gone 6-for-21 from the plate with a home run and five RBI.
BORBON STREET: 1st-year Patriots outfielder Julio Borbon was riding an eight-game hit streak to begin his season until last night. Additionally, the 5-year Major Leaguer is tied for the Atlantic League in doubles (6) and extra-base hits (8).
IT'S A WALK OFF!: Somerset enjoyed four walk-off wins over its first six games of the year. The Patriots had three walk-off wins in first six games last year.
WE'RE GOING STREAKING!: Justin Trapp owns a nine-game on-base streak, while Aaron Dudley has reached base in eight-straight.
NUMBAH ONE: Mike Fransoso's Patriots tenure has gotten off to a strong start. The UMaine grad has made starts in both the infield & outfield and leads the team in batting (.357) – good for 9th in the league – , runs (11) and stolen bases (3).
GOLD GLOVE CALIBER: Somerset has recorded just five errors as a team over 359 total chances, good for a .986 fielding percentage (#1). The Patriots have ranked as the top defensive team in each of the last two years as well, with a .981 and a .983 fielding percentage in 2016 and 2017, respectively.
CLOSE GAME MAGIC: Five of Somerset's first seven wins have come by just one run. They are 5-0 in one-run games this season and were 20-21 last year.
DUDLEY DO-RIGHT: Aaron Dudley has an eight-game on-base streak to begin the year, is currently on an seven-game hit streak, and is 2nd on the team in batting (.345). The first-year Patriot hit over .300 with at least 10 home runs and 60 RBI in each of the last four seasons with the Normal Cornbelters (Frontier).
THE HEART OF TEXAS: The Patriots plated a combined 20 runs over the last two games of their last series against the Sugar Land Skeeters to take two-of-three in Texas. The Patriots hit .307 as a team in the series, while nine different players recorded an RBI and 11 different players recorded multiple hits.
FIRST PLACE BEST PLACE: Somerset has held at least a share of first place for every day so far this season. The Patriots were in held at least a share of first place for 72 straight-days in the first half last year, with only three days tied.
WELCOME, DAVIES: The Patriots announced the signing of eight-year Major Leaguer Kyle Davies on Monday, 5/7. Davies has 43 wins and 547 strikeouts over 770.1 innings his MLB career with the Bra
MyRewards Code: Enter Strike Out 18 into the Patriots mobile app to earn MyRewards points!