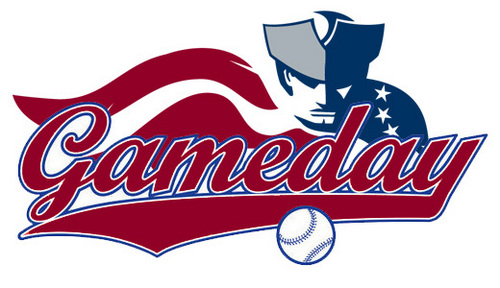 Today's Game:
Somerset Patriots (15-7) @ Long Island Ducks (13-11)
Game #23 * Friday, May 25 * 6:35 pm * Bethpage Ballpark * Central Islip, NY
On The Air: 1450 WCTC; WCTCam.com; Twitter: @SOMPatriots @MarcSchwartz26 @8oyle

Series at a Glance:
Friday (6:35 pm) SOM [RHP] Cory Riordan (1-1, 3.97 ERA) vs LI [RHP] John Brownell (2-2, 5.22 ERA)
Saturday (6:35 pm) SOM [RHP] David Kubiak (0-0, 0.00 ERA) vs LI [RHP] Jake Dunning (1-2, 4.84 ERA)
Sunday (1:35 pm) SOM [RHP] Trevor Foss (1-1, 2.54 ERA) vs LI [RHP] Jair Jurrjens (1-2, 6.18 ERA)
Click here to view today's complete game note: 
GAME NOTES 5.25.18
FIRST PLACE BEST PLACE: Somerset has held at least a share of first place for every day so far this season. The Patriots were in held at least a share of first place for 72 straight-days in the first half last year, with only three days tied.
STARTIN' OFF RIGHT: Dating back to May 12 (eight games), Somerset starting pitchers are 3-2 with a 1.93 ERA (eight runs over 37.1 innings). They have struck out 26 batters against eight walks over this stretch.
INSANE DUANE: LHP Duane Below has allowed just one run over 13.0 innings in his last two starts (0.69 ERA) with an 8/1 K/BB. He has thrown 148 pitches (111 for strikes) and has lowered his ERA over this stretch from 9.00 to 3.60 ERA
JUST A HU(N)CH: LHP Chase Huchingson has made six-straight scoreless appearances. In this stretch, the 2017 All-Star has allowed just two hits with seven strikeouts and has lowered his ERA from 13.50 to 5.00.
CLOSE GAME MAGIC: 10 of Somerset's first 15 wins have come by just one run. They are 10-1 in one-run games this season and were 20-21 last year.
KELLY SAVES: RHP Ryan Kelly ranks tied for third in the league with four saves.
inVINCEable: Somerset's bullpen features a number of former big leaguers, but first-year Patriot Vince Molesky has impressed thus far. Molesky has allowed just three earned runs (all solo home runs) over 16.1 innings this season, good for a 1.65 ERA. He has tossed 10.1 consecutive scoreless innings with 10 strikeouts.
ANTONINI SHINES: Second-year Patriots southpaw Mike Antonini has not allowed an earned run over his first 12.2 innings on just three hits with 16 K.
RED-HOT A-ROD: Shortstop Alfredo Rodriguez has reached base in 14 of his last 17 games. Over that span, Rodriguez is 22-for-61 (.361) with four RBI, four doubles, six walks and 11 runs. His .347 average ranks eighth in the league, while his .440 OBP ranks fifth.
BORBON STREET: Outfielder Julio Borbon is tied for second in the league in doubles (9), third in extra-base hits (13), and seventh in slugging (.541)
NUMBAH ONE: Mike Fransoso ranks seventh in the league in average (.350) and seventh in OBP (.435).
IT'S A TRAPP: Justin Trapp has reached base safely in 18 of the 20 games in which he has played this year and is currently is tied for the team lead in RBI (12) and is third in the league in stolen bases (9).
MDW ON THE ISLAND: The Patriots will renew their rivalry with the Long Island Ducks this weekend. Friday night's meeting marks the 352nd installment between the Liberty Division's top two teams. The Patriots hold a miniscule 176-175 advantage all-time, and have won four of the six meetings this year. As expected, the season series has been close, with the Ducks outscoring the Patriots 27-25.
MyRewards Code: Enter full count 18 into the Patriots mobile app to earn MyRewards points!