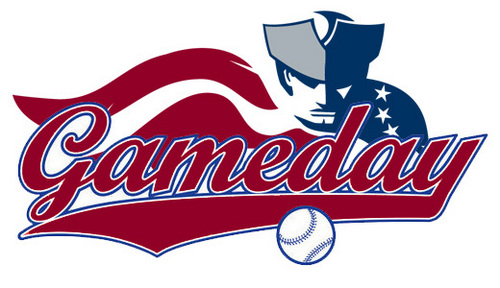 Today's Game:
Somerset Patriots (23-16) vs. York Revolution (19-18)
Game #40 * Tuesday, June 12 * 7:05 pm * TD Bank Ballpark * Bridgewater, NJ
On The Air: 1450 WCTC; WCTCam.com; Twitter: @SOMPatriots @MarcSchwartz26 @8oyle

Series at a Glance:
Tuesday (7:05 pm) SOM [LHP] Rick Teasley (1-2, 4.72 ERA) vs YRK [RHP] Joe Van Meter (1-0, 3.25 ERA)
Wednesday (5:05 pm) SOM [RHP] Kyle Davies (0-2, 5.06 ERA) vs YRK [RHP] Dominic Severino (2-3, 5.49 ERA
Wednesday (7:35 pm) SOM [LHP] Duane Below (1-2, 3.97 ERA) vs YRK [LHP] Logan Williamson (0-0, 0.00 ERA)
Thursday (7:05 pm) SOM [RHP] David Kubiak (2-0, 1.05 ERA) vs YRK [RHP] Mitch Atkins (1-3, 6.28 ERA)
Click here to view today's complete game note: 
GAME NOTES 6.12.18
FIRST PLACE BEST PLACE: Somerset has held at least a share of first place for every day so far this season. The Patriots were in held at least a share of first place for 72 straight-days in the first half last year, with only three days tied.
RIORDAN ROARIN': RHP Cory Riordan set a Patriots season-high with 10 strikeouts in Sunday's game in New Britain. He currently leads the league in IP (50.0), tied for third in SO (36), fifth in BB/9 (1.44) and is eighth in ERA (3.06).
NO RELATION TO ROGER: Danny Dorn has an RBI in seven of his last eight games and is currently on a nine-game hit streak. He is 12-for-32 (.375) with a home run and 14 RBI and has raised his AVG from .225 to .272 over this stretch.
SASSY MASSEY: IF Craig Massey has reached base safely in 13-straight games and 14 of his last 15, having raised his OBP from .286 to .465 in the process. He is 20-for-51 (.392) from the plate with five steals, 10 RBI, 15 runs and 13 walks over this stretch. He has gotten on base at least two times in nine of his last 12 games and has reached base in 32 of his last 63 plate appearances (.508 OBP) over his last 15 games. He is currently 20 PA shy of qualifying for league leaders.
ME AND JULIO: OF Julio Borbon has reached base safely in 12-straight games and is 21-for-67 (.313) with seven RBI, eight SB and 14 runs over his last 16 games. He's hit safely in 20 of his last 24 games, leads the league in doubles (14), is tied for the league lead in XBH (18), and ranks ninth in SLG (.468).
NUMBAH ONE: Mike Fransoso has reached base safely in 14 of his last 15 games. He currently leads the league in OBP (.456) and ranks fifth in AVG (.340).
NO-GAN KENSING: RHP Logan Kensing has tossed six-straight scoreless relief appearances, lowering his ERA from 2.77 to 1.86. He has struck out eight batters against one walk over these 6.1 IP. Kensing has allowed just four runs this season and has struck out 21 batters against four walks over his 19.1 innings of work.
K IS FOR KUBIAK: RHP David Kubiak turned in another dominant performance Friday night. He tossed seven shutout, two-hit innings with eight strikeouts and faced one batter over the minimum. He has carries a 1.05 ERA and has allowed just three walks and nine hits with 18 strikeouts in his first 17.0 innings pitched.
TRAPP TRAPP TRAPP: Justin Trapp has reached base in nine of his last 10 games over which he is batting .341 (14-for-41) with two steals, four walks, six RBI and eight runs. His AVG has risen from .242 to .273 in the process.
WALK HARD: Somerset drew 17 walks over the four-game series with New Britain and rank second in the league in bases on balls (150). Additionally, the Patriots pitching staff has yielded a league-low 98 free passes so far this year.
WELCOMING THE CHAMPS: The Patriots host the defending Atlantic League Champions York Revolution to start the week. York won the season series last year 12-7. The Patriots were outscored 89-63 by the Revs in 2017. Somerset won the only meeting between the two teams so far in a 6-2 win on 5/15 in York.
MyRewards Code: Enter DP 18 into the Patriots mobile app to earn MyRewards points!