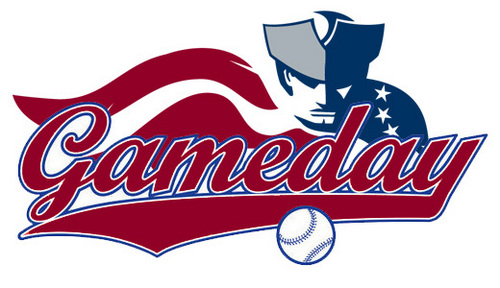 Today's Game:
Somerset Patriots (31-25) @ York Revolution (29-28)
Games #57 and #58 * Saturday, June 30 * 12:00 pm & 6:30 pm * PeoplesBank Park * York, PA
On The Air: 1450 WCTC; WCTCam.com Twitter: @SOMPatriots @MarcSchwartz26 @8oyle

Series at a Glance
Friday (6:30 pm) YRK def. SOM 4-3; Riordan 7.0 IP, 2 R, 0 BB, 8 K; Fransoso 9th inn. RBI triple; Burgess walk-off HR
Saturday (12:00 pm) SOM [LHP] Rick Teasley (3-2, 3.15 ERA) @ YRK [LHP] Jonathan Sanchez (0-0, 0.00 ERA)
Saturday (6:30 pm) SOM [RHP] Trevor Foss (2-4, 4.59 ERA) @ YRK [RHP] Mitch Atkins (4-3, 5.12 ERA)
Sunday (1:00 pm) SOM [LHP] Duane Below (3-1, 3.03 ERA) @ YRK [LHP] Pat McCoy (1-3, 3.06 ERA)
Click here to view today's complete game note: 
GAME NOTES 6.30.18
FIRST PLACE BEST PLACE: Somerset has at least shared first place every day this season and have been alone in first for 59-straight days. The Patriots held at least a share of first place for 72-straight days in the first half last year.
MAGIC NUMBER: Somerset's magic number to win the first half is at four. That means any combination of Patriots wins and New Britain Bees losses totaling four will clinch a first half championship. The magic number over the Long Island Ducks is at three due to the Patriots own the head-to-head tiebreaker.
PLAYOFF IMPLICATIONS IN YORK: The Revs won the first of this weekend's four-game set 4-3. The earliest Somerset could now clinch the division is Sunday. York won the season series last year 12-7; this year's series is tied at 3-3.
STARTING OFF RIGHT: Somerset starting pitchers have tossed at least five IP and have allowed no more than three ER in 23 of the last 25 games. Since June 3rd, starters are 10-5 with a 2.73 ERA (46 ER in 151.2 IP) and a 146/41 K/BB ratio
HOT ROD: Alfredo Rodriguez is has reached base safely in 11-straight games, with hits in 10 of 11. He is batting .395 (16-for-42) with two doubles, five runs and four RBI over this stretch. He ranks tied for 12th in the league in hits (59).
ME AND JULIO: OF Julio Borbon is on a six-game hit streak over which he is 11-for-28 (.393) with two home runs, three steals, four RBI and six runs. He has reached base in 26 of his last 28 games, ranks third in the league in doubles (15), steals (16) and runs (37), fourth in hits (65) and ninth in hitting (.313).
SASSY MASSEY: IF Craig Massey has hit in five-straight and has reached base safely in nine-straight games. He is 13-for-35 (.374) over these nine games. He already owns the team's longest on-base streak of the year (14 games).
NUMBAH ONE: Mike Fransoso has a recorded multiple hits and at least one RBI in three-straight games. He is batting .409 (9-22) with two steals, three runs and five RBI over this stretch. His .421 on-base percentage is tied for the league lead while his .321 average is tied for seventh.
RIORDAN ROARIN': RHP Cory Riordan leads the league in IP (70.1), third in K (57) and in BB/9 (1.28) and sixth in ERA (3.07). He has three 8+ strikeout games
EASY BEING TEASLEY: LHP Rick Teasley returned from a two-week stretch on the inactive list on May 24th. Since his return, he has allowed just five earned runs over 33.2 IP in six starts, good for a 1.34 ERA, to go along with 32 strikeouts.
STARTING TO SMASH: Kyle Roller has three home runs, five RBI, five walks, six runs and a .351 OBP over his last 10 games.
INSANE DUANE: LHP Duane Below turned in another dazzling performance in the 1-0 loss against the Bees on 6/26. The southpaw he has allowed three runs over his last 18.2 IP (1.45 ERA) and ranks fifth in BB/9 (1.61) and ERA (3.04).
MyRewards Code: Enter pitches 18 into the Patriots mobile app to earn MyRewards points!