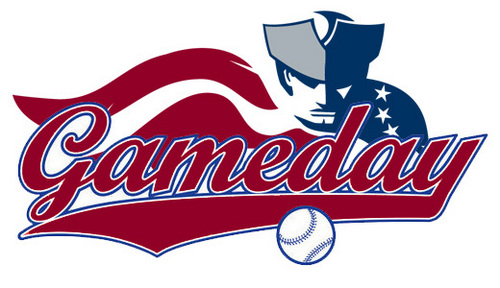 Today's Game:
Somerset Patriots (34-27) @ Southern Maryland Blue Crabs (25-36)
Game #62 * Wednesday, July 4th * 6:35 pm * Regency Furniture Stadium * Waldorf, MD
On The Air: 1450 WCTC; WCTCam.com Twitter: @SOMPatriots @MarcSchwartz26 @8oyle

Series at a Glance
Monday (6:35 pm) SOM def. SMD 4-0; Kyle Davies 5.2 shutout IP; 4-run 4th inning capped by Fransoso's 2-run single
Tuesday (6:35 pm) SOM def. SMD 6-2; Kubiak 7 IP, 1 R, 8 K; Fransoso with bases-clearing triple in 4-run 6th inning
Wednesday (6:35 pm) SOM [RHP] Cory Riordan (3-3, 3.07 ERA) @ SMD [RHP] Brandon Cumpton (4-3, 4.11 ERA)
Thursday (6:35 pm) SOM [LHP] Rick Teasley (3-3, 3.48 ERA) @ SMD [RHP] Paul Clemens (1-4, 4.68 ERA)
Click here to view today's complete game note: 
GAME NOTES 7.4.18
FIRST PLACE BEST PLACE: Somerset has at least shared first place every day this season and have been alone in first for 63-straight days. The Patriots held at least a share of first place for 72-straight days in the first half last year.
MAGIC NUMBER: Somerset's magic number to win the first half is at one. That means any combination of Patriots wins and New Britain Bees losses totaling one will clinch a first half championship. The Patriots guaranteed a better record than the Long Island Ducks on Sunday, given that Somerset owns the tiebreaker.
IS TONIGHT THE NIGHT?: The Patriots can clinch their 7th half division title under manager Brett Jodie tonight in Southern Maryland. A Somerset win or a New Britain Bees loss will clinch the division.
HEY NOW, YOU'RE AN ALL-STAR: The Patriots had five players selected to represent the Liberty Division at the 2018 Atlantic League All-Star Game. Returning All-Stars LHP Duane Below and RHP Cory Riordan are joined by first-year All-Stars OF Julio Borbon, SS Alfredo Rodriguez and IF/OF Mike Fransoso.
HOT ROD: Alfredo Rodriguez has reached base safely in 16-straight games, with hits in 13 of 16. It's now the longest on-base streak on the team this year. He is 19-for-57 (.333) with eight runs and five RBI over this stretch.
ME AND JULIO: OF Julio Borbon is on a 10-game on-base streak, over which he is 14-for-45 (.311) with two home runs, five steals, five RBI, and seven runs. He has reached base in 30 of his last 32 games, is third in the league in doubles (15), runs (38), steals (18), and hits (68) and ranks 11th in hitting (.302).
SASSY MASSEY: IF Craig Massey has a hit in eight of 10 and has reached base safely in 12 of last 14. He is 19-for-54 (.352) over this stretch. Massey is 9 PA shy of qualifying amongst league leaders (has 156 PA, needs 165), but his .442 OBP and .341 BA would otherwise lead the league and rank second, respectively.
NUMBAH ONE: Mike Fransoso has reached base safely in eight-straight games and 15 of his last 16 games. He is batting .414 (12-29) with three runs, three extra base hits, three walks and eight RBI his last eight games. His .419 on-base percentage ranks third in the league, while his .318 average ranks sixth.
STARTING TO SMASH: Kyle Roller has five home runs, eight walks, eight runs, 10 RBI and has increased his slugging percentage from .255 to .362 over his last 15 games. All six of his team-leading six home runs have come since 5/31.
INSANE DUANE: LHP Duane Below has allowed six runs over his last 24.2 IP (2.19 ERA) and ranks third in the league in BAA (.211) and WHIP (0.99), fourth in BB/9 (1.59) and sixth in ERA (3.20). He has won three-straight decisions.
RIORDAN ROARIN': RHP Cory Riordan is second in the league in IP (70.1), ranks third in K (57), second in BB/9 (1.28), and fifth in ERA (3.07). He has three 8+ strikeout games over his last four games. Riordan has struck out 31 batters against just three walks in 27 innings of work over this four-game stretch.
MyRewards Code: Enter wild pitch 18 into the Patriots mobile app to earn MyRewards points!