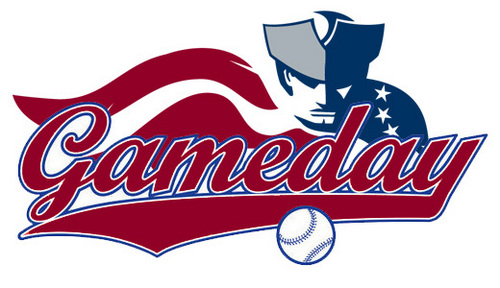 Today's Game:
Somerset Patriots (0-0, 35-28) vs. Road Warriors (0-0, 17-46)
Game #64 * Friday, July 6th * 7:05 pm * TD Bank Ballpark * Bridgewater, NJ
On The Air: 1450 WCTC; WCTCam.com; SPN.tv Twitter: @SOMPatriots @MarcSchwartz26 @8oyle

Series at a Glance
Friday (7:05 pm) SOM [LHP] Duane Below (4-2, 3.19 ERA) vs RW [RHP] Mike Lee (1-3, 4.57 ERA)
Saturday (7:05 pm) SOM [RHP] Kyle Davies (2-3, 3.49 ERA) vs RW [LHP] Brandon Bargas (0-4, 6.92 ERA)
Sunday (5:05 pm) SOM [RHP] David Kubiak (4-1, 2.72 ERA) vs RW [RHP] Felix Baez (2-6, 5.93 ERA)
Click here to view today's complete game note: 
GAME NOTES 7.6.18
FIRST PLACE BEST PLACE: Somerset has at least shared first place every day this season and have been alone in first for 65-straight days. The Patriots held at least a share of first place for 72-straight days in the first half last year.
1ST HALF LIBERTY DIVISION CHAMPIONS: The Patriots have clinched their 7th half division title under manager Brett Jodie. It marks the team's Atlantic League-record 19th half championship in franchise history. Somerset is now guaranteed a spot in the postseason set to begin on Wednesday, Sept. 19th.
HEY NOW, YOU'RE AN ALL-STAR: The Patriots had five players selected to represent the Liberty Division at the 2018 Atlantic League All-Star Game. Returning All-Stars LHP Duane Below and RHP Cory Riordan are joined by first-year All-Stars OF Julio Borbon, SS Alfredo Rodriguez and IF/OF Mike Fransoso.
HOT ROD: Alfredo Rodriguez has reached base safely in 17-straight games, with hits in 14 of 17. It's the longest on-base streak on the team this year. He is 20-for-59 (.339) with eight runs and five RBI over this stretch.
ME AND JULIO: OF Julio Borbon is on an 11-game on-base streak, over which he is 15-for-49 (.306) with two home runs, six steals, five RBI, and eight runs. He has reached base in 31 of his last 33 games, is second in the league in doubles (16), third in runs (39), steals (19), and hits (69) and ranks 12th in hitting (.301).
SASSY MASSEY: IF Craig Massey has a hit in 10 of 12 and has reached base safely in 14 of last 16. He is 21-for-63 (.333) over this stretch. Massey is 4 PA shy of qualifying amongst league leaders (has 166 PA, needs 170), but his .434 OBP and .333 BA would otherwise lead the league and rank third, respectively.
NUMBAH ONE: Mike Fransoso has reached base safely in 10-straight games and 17 of his last 18 games. He is batting .361 (13-36) with three runs, three extra base hits, four walks and eight RBI his last 10 games. His .413 on-base percentage ranks third in the league, while his .312 average ranks sixth.
STARTING TO SMASH: Kyle Roller has six home runs, 10 walks, 10 runs, 13 RBI and has increased his slugging percentage from .255 to .388 over his last 17 games. All seven of his team-leading seven home runs have come since 5/31.
INSANE DUANE: LHP Duane Below has allowed six runs over his last 24.2 IP (2.19 ERA) and ranks third in the league in BAA (.211) and WHIP (0.99), fourth in BB/9 (1.59) and fifth in ERA (3.20). He has won three-straight decisions.
RIORDAN ROARIN': RHP Cory Riordan leads the league in IP (74.1), ranks fourth in K (57), second in BB/9 (1.21), and sixth in ERA (3.27). He has three 8+ strikeout games over his last five games. Riordan has struck out 31 batters against just three walks in 31 innings of work over this five-game stretch.
THE ROOSTER: Aaron Dudley (@RoosterDudley) has turned it on in his last five games, hitting .350 (7-20) with four extra-base hits, four RBI, and two runs scored, bringing his average from .221 to .237 and his slugging from .324 to .359.
MyRewards Code: Enter at bat 18 into the Patriots mobile app to earn MyRewards points!