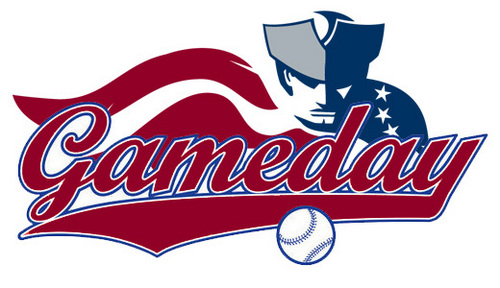 Today's Game:
Somerset Patriots (4-0, 39-28) vs. Lancaster Barnstormers (1-3, 39-28)
Game #68 * Saturday, July 14th * 7:05 pm * TD Bank Ballpark * Bridgewater, NJ
On The Air: 1450 WCTC; WCTCam.com; SPN.tv Twitter: @SOMPatriots @MarcSchwartz26 @8oyle

Series at a Glance
Friday (7:05 pm) SOM def. LAN 2-1:Teasley 6 IP, 0 R, 9 K; Rodriguez RBI single, extends OB streak to 20; Kelly 12th SV
Saturday (7:05 pm) SOM [RHP] David Kubiak (4-1, 2.47 ERA) vs LAN [LHP] Nate Reed (6-2, 3.67 ERA)
Sunday (5:05 pm) SOM [RHP] Cory Riordan (3-3, 3.26 ERA) vs LAN [RHP] Steve Johnson (3-5, 5.10 ERA)
Click here to view today's complete game note: 
GAME NOTES 7.14.18
1ST HALF LIBERTY DIVISION CHAMPIONS: The Patriots have clinched their 7th half division title under manager Brett Jodie and their league-record 19th half championship in franchise history. Somerset is now guaranteed a playoff spot.
ALL THE STARS: Somerset took over the 2018 Atlantic League All-Star Game on 7/11 in Long Island. RHP Cory Riordan and LHP Duane Below both tossed scoreless innings, while Patriots' batters Alfredo Rodriguez, Julio Borbon and Mike Fransoso accounted for all four Liberty Division runs. Rodriguez was named the game's MVP after he went 3-for-3 with both the game-tying and winning RBIs.
SLICK RICK: Rick Teasley snapped a personal 2-game losing streak by delivering six shutout innings against Lancaster, to the tune of just three hits and two walks allowed while striking out nine (a season high). Teasley improved his record at home to 4-2 and lowered his ERA at TD Bank Ballpark to just 2.51.
BEST OF LUCK: First-year Patriot catcher Adam Weisenburger and third-year Patriot infielder/DH Kyle Roller both announced their retirement from professional baseball over the All-Star break. Roller finishes his Patriots' career with a .285 batting average, 39 home runs and 139 RBI over 189 games.
KD TREY-ONE: Kyle Davies has been lights out in his last three starts, winning all three and combining for 18.2 shutout innings. During that stretch, he has allowed just 12 hits, six walks, and has 16 K. His ERA has gone from 5.00 to 2.96. He has now gone 19.1 consecutive innings without allowing a run.
HOT ROD: Alfredo Rodriguez has reached base safely in 20-straight games, with hits in 17 of 20. It's the longest on-base streak on the team this year. He is 23-for-71 (.324) with eight runs and six RBI over this stretch.
SASSY MASSEY: IF Craig Massey has a hit in 14 of 16 and has reached base safely in 18 of last 20. He is 29-for-80 (.363) over this stretch. Massey, now a qualified batter, ranks first in OBP (.443), and second in hitting (.348).
NUMBAH ONE: Mike Fransoso has reached base safely in 14-straight games and 21 of his last 22 games. He is batting .353 (18-51) with four runs, six extra base hits, five walks and 10 RBI in his last 14 games. His .410 on-base percentage ranks fifth in the league, while his .313 average ranks eighth.
SPEEDY PACCHIOLI: Justin Pacchioli has seven steals in eight July games, and is 15-for-15 in attempts this season. He finished 4th in the league last year (35).
INSANE DUANE: LHP Duane Below has allowed seven earned runs over his last 31.2 IP (1.99 ERA) and ranks third in the league in BAA (.213) and WHIP (1.03), fourth in ERA (2.98), and fifth in BB/9 (1.85). He has won four-straight decisions.
RIORDAN ROARIN': RHP Cory Riordan leads the league in BB/9 (1.21), ranks second in innings pitched (74.1), sixth in K (57) and sixth in ERA (3.27). He has three 8+ strikeout games over his last five games. Riordan has struck out 31 batters against just three walks in 31 innings of work over this stretch.
MyRewards Code: Enter left on base 18 into the Patriots mobile app to earn MyRewards points!