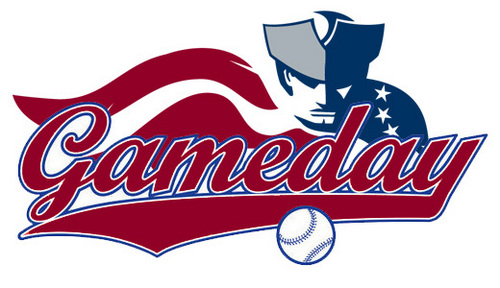 Today's Game:
Somerset Patriots (19-8, 54-36) vs. Long Island Ducks (16-9, 46-42)
Game #91 * Monday, August 6th * 7:05 pm * TD Bank Ballpark * Bridgewater, NJ
On The Air: 1450 WCTC; WCTCam.com Twitter: @SOMPatriots @MarcSchwartz26 @8oyle

Series at a Glance
Monday (7:05 pm) SOM [LHP] Duane Below (6-3, 3.90 ERA) vs LI [RHP] Chris Pike (0-0, 9.00 ERA)
Tuesday (7:05 pm) SOM [RHP] Kyle Davies (5-5, 3.05 ERA) vs LI [LHP] Hector Silvestre (0-0, 6.75 ERA)
Wednesday (11:05 am) SOM [RHP] Stephen Perakslis (0-0, 3.29 ERA) vs LI [RHP] Matt Larkins (6-3, 3.85 ERA)
Click here to view today's complete game note: GAME NOTES 8.6.18
1ST HALF LIBERTY DIVISION CHAMPIONS: Somerset have clinched their 7th half division title under manager Brett Jodie and their league-record 19th half championship in franchise history and is now guaranteed a playoff spot. Somerset has also been atop the Liberty Division for 107-straight days to begin the season.
HOME SWEET HOME: The Patriots have won 15 of 18 games at home to begin the second half. They have allowed more than two earned runs just thrice in the 18 games, and have yielded just 28 earned runs over 167 innings (1.51 ERA).
4 SCORE AND A PATS WIN: Somerset is a perfect 10-0 when scoring four runs or more at TD Bank Ballpark in the second half of the season.
K IS FOR KUBIAK: David Kubiak currently leads the league in ERA (2.55), is tied for the lead in wins (8) and is second in strikeouts (93). He has eight strikeouts in eight of his 13 starts & has allowed two or fewer runs in 11 of 13 starts this year.
inVINCEable: Vince Molesky has a 1.08 ERA and has allowed 15 hits and six walks with 19 K over 25 IP in his four starts this year. Molesky is 6.1 innings shy of qualifying for league leaders, and his 3.02 ERA would rank third.
MAD MAN MASSEY: Craig Massey is on a 27-game on-base streak, the longest on the team this year and second longest in the league (Jordany Valdespin, 32). He is 41-for-110 (.373) with a home run, 11 RBI, and 19 runs scored over this stretch. Massey leads the league in OBP (.442) and ranks second in hitting (.355).
PATCH EM UP: Justin Pacchioli has reached base safely in seven-straight games and is 9-for-25 (.360) with seven RBI over this stretch. He has an RBI in seven of his last 10, and has either a run scored or an RBI in 23 of his last 25 games.
HOT ROD: Alfredo Rodriguez has hit safely in 17 of his last 19 games and is 27-for-71 (.380) with two home runs, 17 runs, and 20 RBI since July 17. The 2018 All-Star Game MVP is seventh in the league in OBP (.399) and 8th in AVG (.310).
AGE JUST A NUMBER: The 40 year-old Endy Chavez has reached base in 17 of the last 19 games. He is 27-78 (.346) with eight multi-hit games, six runs, eight RBI and has raised his average from .232 to .269 during this stretch.
BOY OH BOYD: Newcomer IF/OF Jayce Boyd has hit safely in each of his first three starts as a Patriot. The former New York Mets prospect has scored a pair of runs and recorded his first RBI with the team in Saturday night's game.
ALWAYS ON: Craig Massey leads the league in on-base percentage (.442), while Mike Fransoso ranks fourth (.402), and Alfredo Rodriguez ranks sixth (.399).
LIKE MIKE: LHP Mike Antonini has tossed 16.1 IP with just one earned run (0.55 ERA), with just nine hits, three walks, and 18 strikeouts since 6/16 (16 games).
OH, MOLLEKEN: RHP Dustin Molleken is 1-0 with an ERA of just 1.38 over his last eight games, amassing 13.0 IP, with nine hits and one walk to go with 11 K.
MyRewards Code: Enter slider 18 into the Patriots mobile app to earn MyRewards points!