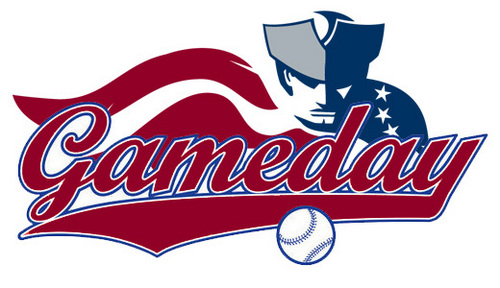 Today's Game:
Somerset Patriots (33-23, 68-51) vs. York Revolution (32-24, 64-55)
Game #120 * Saturday, September 8th * 7:05 pm * TD Bank Ballpark * Bridgewater, New Jersey
On The Air: 1450 WCTC; WCTCam.com; SPN.tv Twitter: @SOMPatriots @MarcSchwartz26 @8oyle

Series at a Glance
Friday (7:05 pm) YRK def. SOM 2-0; Boyd 3-4; Coronado 2-4; Patriots had bases loaded with 0 outs in 9th inning
Saturday (7:05 pm) SOM [LHP] Rick Teasley (4-4, 3.60 ERA) vs. YRK [RHP] Mitch Atkins (12-6, 3.74 ERA)
Sunday (1:05 pm) SOM [LHP] Duane Below (8-6, 4.07 ERA) vs. YRK [LHP] Robert Carson (10-6, 3.51 ERA)
Click here to view today's complete game note: 
GAME NOTES 9.8.18
1ST HALF LIBERTY DIVISION CHAMPIONS: Somerset have clinched their 7th half division title under manager Brett Jodie and their league-record 19th half championship in franchise history and is now guaranteed a playoff spot. Somerset spent the first 108-straight days of the season atop the Liberty Division.
BOY OH BOYD: Jayce Boyd has reached base in 19-straight games, hitting .364 (28-for-77) with four home runs, six walks, 14 runs scored and 17 RBI.  His batting average has raised from .175 to .299 over this stretch. Additionally, Boyd is riding an 11-game hit streak (19-for-45, .422) with a run scored in eight of these 11 games (10 runs total) and an RBI in nine of the 11 (15 RBI total).
AGE JUST A NUMBER: The 40-year-old Endy Chavez has reached base in 36 of the last 41 games. He is 53-for-162 (.327) with 14 multi-hit games over this stretch. He is also batting .364 with seven RBI over his last six games.
PATCH 'EM UP: Justin Pacchioli has reached base in eight-straight games and 12 of his last 13. The second-year Patriot has two RBI, four steals, six runs and 10 walks over this stretch. He has drawn a walk in eight of his last 11 games.
FLORES IS FLOURISHING: Ramon Flores is hitting .339 (20-for-59) in the last 15 games with a home run, four walks, five runs and 12 RBI. He has hit safely in eight of his last 10 games and has reached base safely in 14 of his last 16.
PERKALATING: Even in the loss on Friday, Stephen Perakslis has yielded just three runs over 17 IP with a 16/3 K/BB in last three starts. Since yielding three runs in the first inning on 8/19 vs. York, the righty has allowed three runs over his last 21 innings (1.29 ERA) on just 15 hits and three walks with 24 strikeouts.
inVINCEable: Vince Molesky has a 1.78 ERA (12 earned runs over 60.2 IP) with 12 walks to 46 strikeouts in his nine starts this year. His 2.67 ERA ranks second in the Atlantic League, and he has allowed the fifth fewest amount of hits (103).
SHUT THE DOOR: Ryan Kelly has allowed one run with 13 saves over 20.2 IP in his last 21 appearances (0.44 ERA). He is tied for 4th in the league with 22 saves.
JUST A HU(N)CH: Chase Huchingson has only allowed just two earned runs since the beginning of August. He owns a 1.23 ERA (two ER over 14.2 IP) over this stretch with a 14/6 K/BB ratio, lowering his ERA from 4.71 to 3.53.
LIKE MIKE: LHP Mike Antonini has tossed 28.2 IP with just three earned runs (0.94 ERA), 16 hits, four walks, and 28 strikeouts since 6/16 (25 games). His 0.74 WHIP leads the league with a minimum of 40.0 innings pitched.
BIG MAPLE: The 6'4" Canadian Dustin Molleken has allowed just two earned runs in his last 14.1 IP, good for a 1.26 ERA over his last seven appearances.
CAN'T SEPARATE 'EM: Over the last 12 years since York has joined the league, they have played to an identical record with the Patriots. Both teams have won 114 games against each other in the all-time series.
MyRewards Code: Enter day game 18 into the Patriots mobile app to earn MyRewards points!