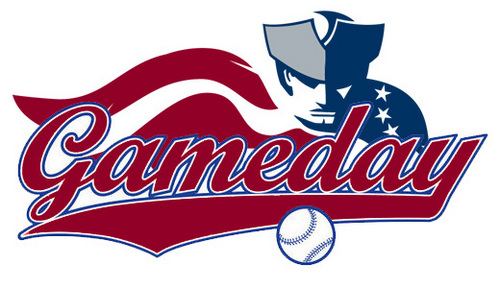 Today's Game:

Series at a Glance
Saturday Gm. 1 (4:05 pm) NB def. SOM 8-4; Navarro HR; Nyisztor 1-3, 2 RBI; 3-run NB 1st inning, 4-run NB 7th inning
Saturday Gm. 2 (7:05 pm) SOM def. NB 14-2; Kubiak 6.0 IP, 1 ER; Rodriguez 3-3, 3 R, 4 RBI; Flores 3-4, 2 R, 4 RBI
Sunday (1:05 pm) NB [RHP] Cory Riordan (0-0, 0.00 ERA) @ SOM [LHP] Rick Teasley (0-0, 0.00 ERA)
Click here to view tonight's complete game note: 
GAME NOTES 4.28.19
AGAINST THE BEES: The Patriots went 10-7 against the New Britain Bees in 2018. New Britain went 7-4 over Somerset in the first 11 meetings before the Patriots won each of the final six ballgames to take the season series. Patriots pitchers combined to own an overall 2.87 ERA over 150.2 IP against the Bees.
THE ONLY ONE WHO CAN DRINK: 2019 marks the 22nd season of play for the Atlantic League of Professional Baseball. The Somerset Patriots are the only charter member of the league remaining, thus the league's only team that is 22.
MLB PARTNERSHIP: The Atlantic League entered a groundbreaking partnership with Major League Baseball entering 2019. This includes the implementation of experimental rules in exchange for the use of Trackman radar data software, increased scouting from MLB and a streamlined process for purchasing contracts.
(500) WINS OF SUMMER: Brett Jodie returns for his 7th season as manager. He is 13 wins shy of 500 wins in his managerial career. He was the fastest manager in ALPB history to win 250 games when he reached the mark in 2015.
HELLO, MY FRIEND, HELLO: The Patriots return 14 players from their 2018 roster. Additionally, LHP Logan Darnell returns from the 2017 roster while LHP Brett Oberholtzer was with the team during Spring Training last year.
THE CHAMP IS HERE: Craig Massey is back in Somerset after winning the 2018 Atlantic League batting title last year. Massey led the league with both a .338 AVG, and a .418 OBP – edging out Long Island's Jordany Valdespin by less than .001. He became the fourth batting champ in franchise history, joining Mike Warner (.351, '02), Victor Rodriguez (.371, '04) & Josh Pressley (.354, '08).
BACK-TO-BACK TITLES: Somerset brought in outfielder D'Arby Myers this offseason, who won the ALPB batting title (.337) with the Bridgeport Bluefish in 2017. The Patriots now have the league's last two batting champs on the roster.
MVP! MVP! MVP!: Alfredo Rodriguez returns in 2019 after he was voted by Patriots fans as the team's 2018 MVP. Rodriguez led the team in games (122), at-bats (432), hits (131), runs (69) and RBI (55). He was also named an ALPB Mid-Season and Post-Season All-Star and was selected as the '18 All-Star Game MVP.
FAST OUTTA THE GATE: Somerset has had a recent history of getting off to fast starts, including a series-sweep of their opponent to begin the season in each of the last three years. They swept the Road Warriors in their opening series last year and finished their first homestand 5-1. The Patriots went 6-1 over their first homestand in 2017, including a four-game series over Lancaster to begin the season. Most impressively, Somerset began the 2016 season 13-0, including back-to-back sweeps at home over Long Island and York to start the year.
ONE NEW JERSEY: The Patriots boast a number of local talents on the roster, including newcomers James Pugliese (Hamilton) and Steve Nyisztor (Toms River) alongside returnees Scott Kelly (West Windsor) and Nate Roe (Plainfield).