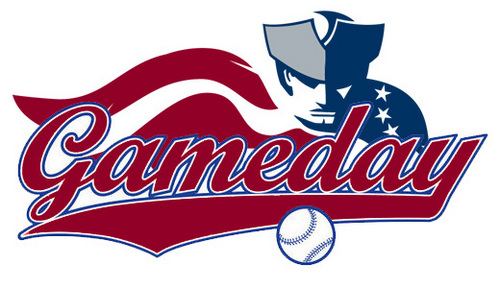 Today's Game:

Series at a Glance
Friday (6:35 pm) SOM def NB 7-5 (10); Patriots blow early five-run lead, plate two in the 10th; Ohlman 4-for-5, 3 RBI
Saturday (6:35 pm) SOM [RHP] David Kubiak (1-0, 1.50 ERA) @ NB [RHP] Cory Riordan (0-1, 2.25 ERA)
Sunday (1:35 pm) SOM [LHP] Rick Teasley (0-0, 0.00 ERA) @ NB [LHP] Anthony Marzi (0-0, 10.80 ERA)
Click here to view tonight's complete game note: 
GAME NOTES 5.4.19
I HATE YOU BEES!: The Somerst Patriots are 3-1 against the New Britain Bees so far in 2019. New Britain spoiled Somerset's first game with an 8-4 win, but the Patriots outscored the Bees 25-8 over three-straight wins since.
(500) WINS OF SUMMER: Brett Jodie returns for his 7th season as manager. He is now eight wins shy of 500 wins in his managerial career. He was the fastest manager in ALPB history to win 250 games when he reached the mark in 2015.
OHL OHL OHL, IT'S MAGIC!: Michael Ohlman went 4-for-5 from the plate Friday night and now leads the ALPB in batting (.417). He is also second in OPS (1.023),  tied for 3rd in OBP (.481), 6th in slugging (.542) & tied for 7th in RBI (6). The former Blue Jay has reached base at least twice in five of his seven games.
KENGOR KONG: Newcomer Will Kengor has reached base in each of his first seven games with Somerset, going 9-for-22 at the dish with four runs and three RBI. He is currently second in the ALPB in batting (.409) and T-3rd in OBP (.481).
30 POUNDS DOWN: After losing over 30 pounds during the offseason, 2nd-year Patriot Ramon Flores is T-5th in the league in AVG (.385) and T-4th in RBI (7). Flores hit .280 with four home runs and 31 RBI in Somerset last year.
START ME UP: Somerset starting pitchers have consistently put the team in a position to win this season. Over the last six starts, the Patriots starting pitchers are  collectively 3-1 and have yielded just six earned runs over 29 innings of work (1.93 ERA) with 23 strikeouts.
SASSEY MASSEY: Craig Massey has reached base safely in four-straight games since starting the season 1-for-14 from the plate. He owned a team-best 29-game on-base streak from early July to early August last year.
PATCHES O'JUSTINIHAN: Third-year Patriot Justin Pacchioli reached base three times Friday night. He is 4-for-8 with three RBI, one run and one walk over his last two games. He has now started six-straight games.
NYISZ LIKE ICE: Tom's River, New Jersey native Steve Nysiztor had a pair of cllutch two-out RBI singles Friday night, including an insurance run in the 10th inning. The Rutgers product is tied with Alfredo Rodriguez for third on the team in RBI (4) while making six starts at first base to begin the season.
YOU ALWAYS REMEMBER YOUR FIRST: LHP Mike Antonini – in his 3rd season in Somerset and 13th in pro baseball – recorded his first career save Sunday afternoon against New Britain with a scoreless top of the ninth inning. The southpaw is currently tied for the Atlantic League-lead in saves (3).
A-B-C, EASY AS 1-2-3: The Patriots have three strong left-handed relief pitchers in Mike Antonini, Duane Below and Luis Cruz. The three pitchers have combined for three Atlantic League Mid-Season All-Star selections and one Post-Season All-Star selection over their seven-combined seasons in the league.